We believe strongly that something very magical happens when you read a good book. To get the best out of your school days, you should arm yourself with powerful knowledge so that you face the world prepared.
Applied knowledge is power. Therefore, If you put into action the life-changing ideas from these book recommendations you will surely learn how to make smarter decisions. Not only that, these books will inspire you on days (which are pretty common) when you run out of faith, drive, and hope.
Right in this article, there is something for every student who is passionate about living an impactful life. Our book recommendations cover many subjects- -from time management to mastery to personal finance. Plus, they are more than just popular names of the best motivational books for students.
This list of nonfiction books is complete with authors' descriptions and quotes to help you catch a glimpse of what we are raving about!
So ahead. See below how these fail-proof insights that you will gain from reading these titles will change your life forever.
Why Read Motivational Books?
There are tons of motivational books out there and everyone has something to say about each one of them.
But while the criticism is constantly up for debate, motivational books have the ability to inspire action.
And if many great people ascribe their success to the influence of mentors, why not motivational books? After all, these books give us the rare opportunity albeit a dirt cheap one to sit across the table with – you guessed right – mentors.
In fact, many leaders directly attribute their success to the best motivational books. It is therefore up to you to dutifully apply what you learn. That's something nobody can do on your behalf.
Now that's out of the way, the right motivational books for students will do the following for you:
Inspire action
Guide you through personal change
Help you foster great relationships
Build transferable skills
Teach you how to become productive
Walk you out of bad habits
Inspire courage and focus
Make you become the best version of self
Get you out of the status quo
Question popular myths
Build your self-confidence
Develop mastery
Show you a new perspective of the world.
Learn from other people's mistakes and errors.
Help you overcome procrastination
Provides a useful system for scheduling, time management, and efficiency.
People also search for Best Words of wisdom for Graduates
15 Best Motivational Books for Students in 2022
This list contains carefully selected motivational books for students. By reading these books, you will be able to maximize your school years. So that. by the time you are ready to leave school, you would have built for yourself an inspiring, fulfilling life and future.
Here's our latest round-up of the best motivational books for students.
Please note that this list is no particular other.
The value string- By Ukpeme Okon
The 7 Habits of Highly Effective People- By Stephen Covey
Talent is Never Enough- John Calvin Maxwell
The Alchemist- Paulo Coelho
Awaken the Giant Within- Tony Robbins
Think and Grow Rich- Oliver Napolean Hill
Outliers- Malcolm Timothy Gladwell
Atomic Habits- James Clear
Deep Work- Calvin C. Newport
The compound effect- Darren Hardy
How to Win Friends and Influence People- Dale Carnegie
Rich Dad Poor Dad- Robert Kiyosaki
Mastery- Robert Greene
The Richest Man in Babylon- George S. Clason
"Do not condemn yourself even when you have been condemned. Sing the redemption song. Open your mind, open your heart, forgive yourself, and ask for forgiveness. Envision a future of eternal liberty. You can be leavened bread. You can rise."
The Value String is nothing short of having your own angel of encouragement by your side. Packed full of wisdom for simplifying a complex life, this book will guide you out of the confusion that is common amongst students. 
Who is this book for and just what can it do for you?
It is for students and all those who are looking for clarity.
Without exception, those who are transitioning to another phase in life all need this book.
Those who are going through a tough patch will suddenly experience profound peace as soon as they begin to implement the advice that this book contains.
If you are in need of a courage boost to heal from hurts and pain, then you should quickly make this book your best friend.
Each page will make your eyes pop in joy and turn up the corners of your lips in a wide-eyed smile because its pages are filled with hope and soul-refreshing truths. The authenticity in the voice of Ukpeme Akpan – the writer is very reassuring.
There are 10 sections filled with thought-provoking stories. No empty words. Just pure truths.
You may be a reflection of your past but you're not your past. If your mind is stuck in a rut, The value Strings is the tow truck that will help "you" get yourself out.
About the Author:
Ukpeme Okon is a prolific writer and speaker. She is also a lawyer, an adjudicator, and a Justice of peace. Her book The Valuestring deals with transitional life and compelling peace.
2) The 7 Habits of Highly Effective People
"The main thing is to keep the main thing the main thing"
The 7 Habits of Highly Effective People remains one of the best influential books of all time and deservedly so. It is a deviation from modern-day motivational books that tell readers to act in particular ways. Contrarily, the book argues that change is from the inside out and that the process is as important as the product. You cannot change your circumstances without first changing yourself. Accordingly, Stephen serves a 7-course meal that is deeply satisfying.
You will learn why quick fixes and shortcuts fail and what to do instead to achieve lifelong impact. This book will teach you first principles and the importance of dealing with the root instead of hacking at the leaves. The root, according to Stephen Covey is your character while the leaves are your outcomes.
You cannot become a truly successful person if you don't live according to principles and have core values. Ineffectiveness then which arises from our daily habits is not just based on what we do but on who we are. Superficial quick fixes, strategies, and techniques that seek to manipulate change will only fail if we don't address our identity.
It is broken into 3 parts. Each part addresses 3 habits teaching the skills for independence. The Subsequent part breaks down in simple language the habits of inter-dependence and the last part "sharpen the saw" will teach you how to renew yourself in order to maintain your personal capacity to perform.
About the Author: Stephen Covey was an American Professor and Business Man. He authored best-selling books like The 7 Habits of Highly Effective People. The book has sold over 25 million copies since its publication. He was recognized as one of TIME Magazine's Most Influential Americans in 1996.
3) Talent is Never Enough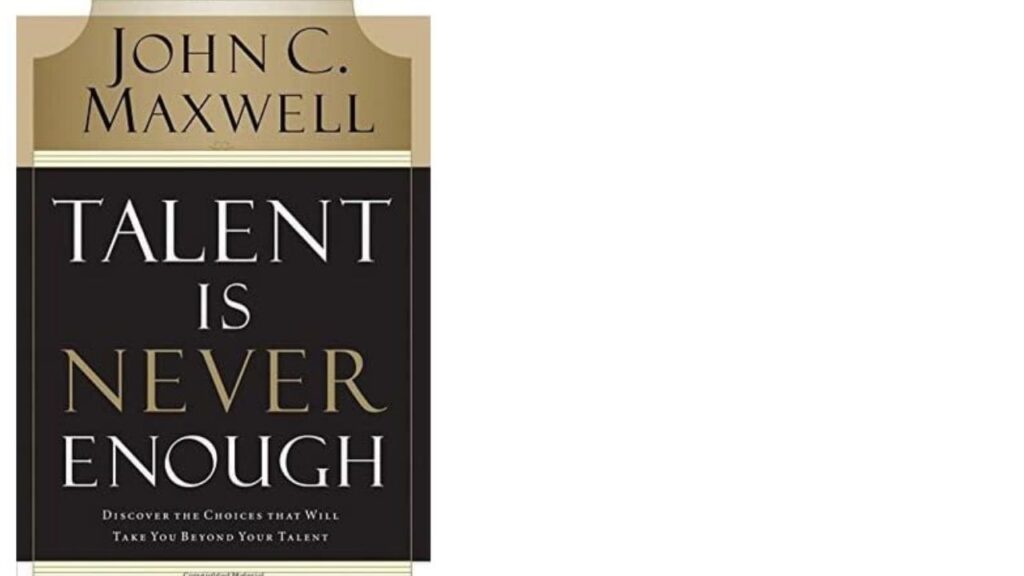 "The key choices you make – apart from the natural talent you already have – will set you apart from others who have talent alone."
While there has been a focus on "raw talent", especially in education and corporate culture, we have also seen talent gone to waste. The headlines and the highlights prove it day after day. In fact, you might know one or two talented people living below their potential. In Talent is Never Enough, Dr. Maxwell, a world-renowned trainer shows you how to escape the trap of The Gifted. He shows you how to position your abilities and live an extraordinary life.
As a student, this will prove an extremely beneficial book. You will learn how to perform above the average population and take your talent from average to genius level. According to Dr. Maxwell, and we agree with him, an artist is nothing without his gift but the gift is useless without 13 invaluable ingredients. Learn how :
Belief uplifts your talent
Passion energizes your talent
Initiative activates your talent
Focus directs your talent
Preparation positions your talent
Beyond these highlights, Dr. Maxwell has a truly inspiring message for you. A word to help you along your academic journey. The wisdom in this book will make you shine amongst your peers.
About the author: John Calvin Maxwell is an American author, speaker, and Pastor. He is a leadership expert whose works have sold massively with some on the New York Times Seller List. He is the founder of EQUIP, an international leadership development organization.
4) The Alchemist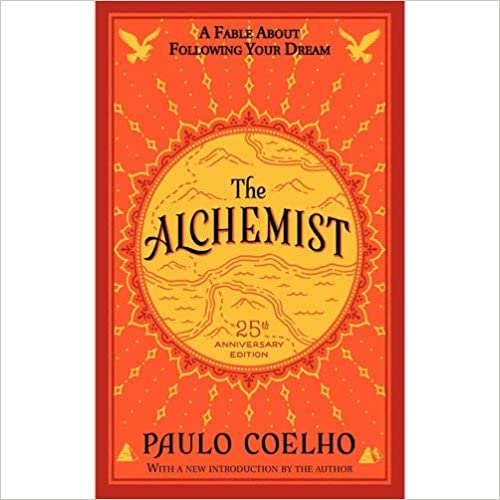 "…whoever you are, or whatever it is that you do when you really want something, it's because that desire originated in the soul of the universe. It's your mission in life". "To realize one's destiny is a person's only obligation."
Brief literature, this legendary book is more self-help than literature. The quotes above form the bedrock upon which the entire plot is built. Paulo explores a profound and deeply mystical story that will draw you in and inspire you to pursue your "personal legend".
Told in simple words, this unique novel narrates a gripping story of a young shepherd boy who sets out on a journey of self-discovery. He encounters many joys and enormous setbacks along the way. These roadblocks present life-altering lessons to him. These lessons which at the time were depressing all add up to make Santiago discover his mission in life. In the end, he discovers that the treasure he's been seeking and which he had repeatedly dreamed of was all along with him.
The Alchemist is rich with symbols. There is the Alchemist itself, the universal language, the soul of the world, the sheep, the hand, personal legend, omens, and others. This one is a metaphysical book that explores life's allegories. You should read this book, at least once in your lifetime. It will completely revolutionize the way you see obstacles, purpose, fate, destiny, love, and the world.
A simple book that is not near simplistic, The Alchemist will plunge you into the exotic realms of magic, mystery, and realism – where the possibilities are wondrous and the reality unparalleled.
About the Author: Paulo Coelho is a Brazillian Novelist born on August 24, 1947. He is mostly known for his highly acclaimed book – The Alchemist. He employs rich symbolism in his representation of the mystical.
5). Awaken the Giant Within
"Making a true decision means committing to achieving a result, then cutting yourself off from any other possibility."
Questions are the answers and Anthony Robbins has a ton of empowering ones for you in this instant bestseller. This one is for you if you are a sucker for practical motivational books steeped in easy-to-understand psychology. This 512 paged book is for anyone who wants to master his emotional, physical, and mental well-being. It will help you overcome your own limiting beliefs, create an inspiring vision, deal with procrastination and create the life you want.
Anthony Robbins simplifies the daunting task of decision-making and the subtle messaging in our everyday language. Also, he addresses how the forces of pain and pleasure affect habits and personal change. It is likely that a challenge in your life right now could have been avoided had you made a different decision.
You can in this book begin to explore the components in your master system: Your core beliefs and unconscious rules, your life values, your references, your habitual questions, and your emotional states.
Indeed, reading this book is a cheap way to sit across the table with a legend. Don't pass up this chance to study and apply its scientific solutions. Even your academics will thank you for it.
About the Author: Tony Robbins, byname Anthony Robbins is an Author, Coach, and Speaker. He is widely known for his books Unlimited Power and Awakens the Giant Within. His books have a unique style and a behavioral psychology spin to them and have sold millions of copies worldwide.
6). Think and Grow Rich
"The starting point of all achievement is desire".
A list of the best motivational books for students without the grand patron of motivational books. It has been said to make the most millionaires in the world and many iconic figures have attributed their success to it. Published in 1937, this book is said to have sold more than 20 million copies within 50 years.
The author examines the mind as the single most important force for good and evil. He, in a fast-moving plot, chronicles the success stories of highly successful men – like Dale Carnegie, John D. Rockefeller, and Henry Ford- he claimed to have met and draws lessons from them. In these lessons, you will learn how to reprogramme your mind for wealth.
Just in case you have a conservative view of money, don't be discouraged, this book is not sorely about the pursuit of material things. It talks mainly about how to accomplish your big goals by harnessing the power of your subconscious mind. Also, it examines the power of thoughts, desires, and affirmation. It is very handy material for students as it will help you tame your mind, use your imagination and conquer your fears.
About the author: Oliver Napolean Hill was born in 1883. Although, he has authored more than 10 books he is best known for his book Think and Grow Rich. His major influences were the writings of Ralph Emerson. His book largely influenced many new authors of self-help books. Amongst such books is The Secret.
7) Outliers
"When and where you are born, what your parents did for a living…makes a significant difference in how well you do in the world."
Malcolm Gladwell worked his magic again with Outliers. This book is a treasurable outcome of journalistic prowess and gripping storytelling. We feel that Outliers will open your eyes, as a student to discover before late that the success equation is not as linear as you might think. If you are thinking " why then did it make the list of the best motivational books for students?"
According to Malcolm, it is not the brightest kid who succeeds. Eventuality, those that do are ordinary people who have the presence of mind to seize the opportunities made available to them.
The young Bill Gates, for instance, had the rare opportunity of unlimited access to a time-sharing terminal in 1968. Malcolm then asks, how many Microsofts would we have today if a million teenagers had been given such access at the time? He doesn't say that whimsical luck makes one successful but Malcolm Gladwell, in this book sets out to destroy the myth of the self-made man.
He opines that a powerful set of circumstances make some persons become wildly successful. And lays down layers upon layers of arguments to support his argument that success is not only the story of hard work, intelligence, or grit. But that, many factors, like the year of birth and even cultural nuances can affect how well you do in life.
Perhaps, after reading this eye-opening book, you will begin to work your way out of the natural disadvantage of your birthplace, religion, culture, and biology and position future generations for a better life.
About the Author: Malcolm Timothy Gladwell was born on 3rd Sept 1963. He is a writer and author of many New York Times bestsellers including the Outliers. He was a writer with the Washington Post before working with the New Yorker.
8) Atomic Habits
"You don't rise to the level of your goals, you fall to the level of your systems."
Atomic Habits provides a prescriptive guide to building good habits and breaking bad ones. It deserves a place amongst the best motivational books for students. James Clear writes that our habits follow a 4-Step Habit Loop and explains practical ways to "hack" each step so we can achieve lasting personal change.
By adding daily a minute improvement – as little as 1% – to your life, you will make a phenomenal difference in your life. James will introduce you to mind-blowing concepts like habits stacking and with the help of this book, you will overcome hard-wired patterns that stand in the way of good academic performance.
About the Author:
James Clear writes about habits, decision-making, and personal improvement. He is the author of the #1 New York Times bestseller, Atomic Habits. The book has sold more than 7 million copies worldwide.
9) Deep Work
"Efforts to deepen your focus will struggle if you don't simultaneously wean your mind from a dependence on distraction."
When an associate Professor of Computer science tells you something about distractions in a technology-driven economy, you just have to listen. We live in an age where the ability to perform highly specialized tasks is very rewarding. Ironically, it is exactly the period where this skill has become scarce.
In other words, the ability to concentrate has become an endangered one. As a result, those who develop their concentration muscles are the elite workers who churn out the best stuff. Cal Newport dishes out principles for tapping into the peak of your creativity and avoiding distractions in the digital age.
He suggests that by embracing boredom, you will master hard ideas quickly and inevitably become a leader in your field. Needless to say that this is a treasure for students at all levels.
About the author
Calvin C. Newport was born in June 1982. He is an American author and associate professor of computer science at Georgetown University. Calvin's work focuses on minimizing the interruptions born out of digital noise. His book Deep Work is one of his popular works.
10) The compound effect
"Ask yourself each day:
If I only did 3 things today, what are the actions that will produce the greatest results in moving me closer to my big goals?"
It grows. The compound effect is wrapped in a simple truth. It declares that small insignificant changes that you implement daily bring about radical change.
Unfortunately, in a world of instant downloads, fast food, and same-day shipping – the microwave generation as the author calls it – we have forgotten what tremendous difference smart unsexy everyday decisions can make in a year. Something like – If you want to improve your finance, start by making small changes in your spending. If you want to improve your health, eat less junk food daily.
The Compound effect is definitely one of the best motivational books for students. This book will improve your experience as a student and help you align your actions with your core values. By so doing you will gain discipline, and mastery and your results will be different from the 99%.
About the Author: Darren Hardy was born on 26, Feb. 1971. He started his very first business at a very young age. He is one of America's authors, writers, and foremost public speakers.
11). How to Win Friends and influence People
"Be wiser than other people if you can, but do not tell them so."
How does a book with such a quote win a position amongst the best motivational books for students? Well, we think you should tuck this one away carefully for your kids and grandkids too…They will also need it when it is time to ramp up their interpersonal relations skill.
How to Win Friends and Influence People became one of the most prominent books in the history of America. It is a handy manual for winning with all kinds of people. No gimmicks. No tricks. Without manipulating anyone.
In a detailed narrative, Dale Carnegie distills invaluable information that will help you relate well with people from all walks of life – friends, your difficult professor, and even strangers.
Productivity is not only about completing your tasks and assignments. It's also about building and maintaining rewarding friendships. By learning a genuine, pragmatic approach to people's affairs, you will know how to win people to your side without arousing resentment.
There might be a lot of varying opinions about this book but it's an undeniably useful book no matter what.
About the Author: Born November 24, 1888 – November 1, 1955, Dale Carnegie was an American writer and lecturer. He was well known for his courses in self-improvement, salesmanship, corporate training, and public speaking. His book How to Win Friends and Influence People remains on the bestseller list to date.
12). Rich Dad Poor Dad
"The poor and middle-class work for money. The rich have money work for them."
Rich Dad Poor Dad preaches the value of financial education, financial independence, and wealth building through investments. It is written in a story form narrating the events following Kiyosaki's financial training.
The "rich dad" is his friend's father who accumulated wealth from entrepreneurship and smart investments, while the "poor dad" according to Kiyosaki is his (Kiyosaki's) own father who worked hard all his life but never attained financial freedom.
The best motivational books for students should offer financial advice too. The insights from this book offer foundational knowledge about money and responsibility. Kiyosaki teaches expressly about the trap of job security and living paycheck to paycheck. He gives a practical distinction between assets and liabilities; and trust me, these working definitions are different from what you may be thinking.
Everyone -student or not – should take their finances very seriously. On that note, you should read this book.
About the Author: Robert Kiyosaki is the author of more than 26 books, including this very popular one. Rich Dad Poor Dad was made into a series of books that has been translated into many languages. It has sold over 40 million copies worldwide.
13. Mastery
"The problem with all students, he said, is that they inevitably stop somewhere. They hear an idea and they hold on to it until it becomes dead; they want to flatter themselves that they know the truth. But true Zen never stops, never congeals into such truths. That is why everyone must constantly be pushed to the abyss…"
Would you still be interested in your present endeavor if you were to reconnect with your primal curiosity?
Well, in Mastery, Robert Greene as usual bares it all the hardcore way. You don't need to be in the endless struggle between money and your own natural interest.
This author who knocks off every bestseller -each time he comes out with a discovery shares secrets on how to become a master in any field.
In this book he examines how the past and present masters think and suggests three ways to mastery:
Reconnecting with your primal curiosity
Having value for learning
Uniquely combining many skills.
If you implement these rules, you'll become too good to be ignored. And after years of devotion, you will be able to tap into your sixth sense of intuitive intelligence. By then you would be able to see in your field, the intricacies that the average man cannot see.
The financial benefits will be huge and you will have even more time for in-depth learning and consequently, greater domination.
So, if you desire to become the master by the time you leave the four walls of the college, by all means, read this book.
About the Author: Born May 14, 1959, Robert Greene is an American author. He writes on such topics as strategy, power, mastery, and seduction. Although his books are international bestsellers, he is mostly known for The 48 Laws of Power.
And the Grand Daddy We Couldn't Forfeit…
14) The Richest Man in Babylon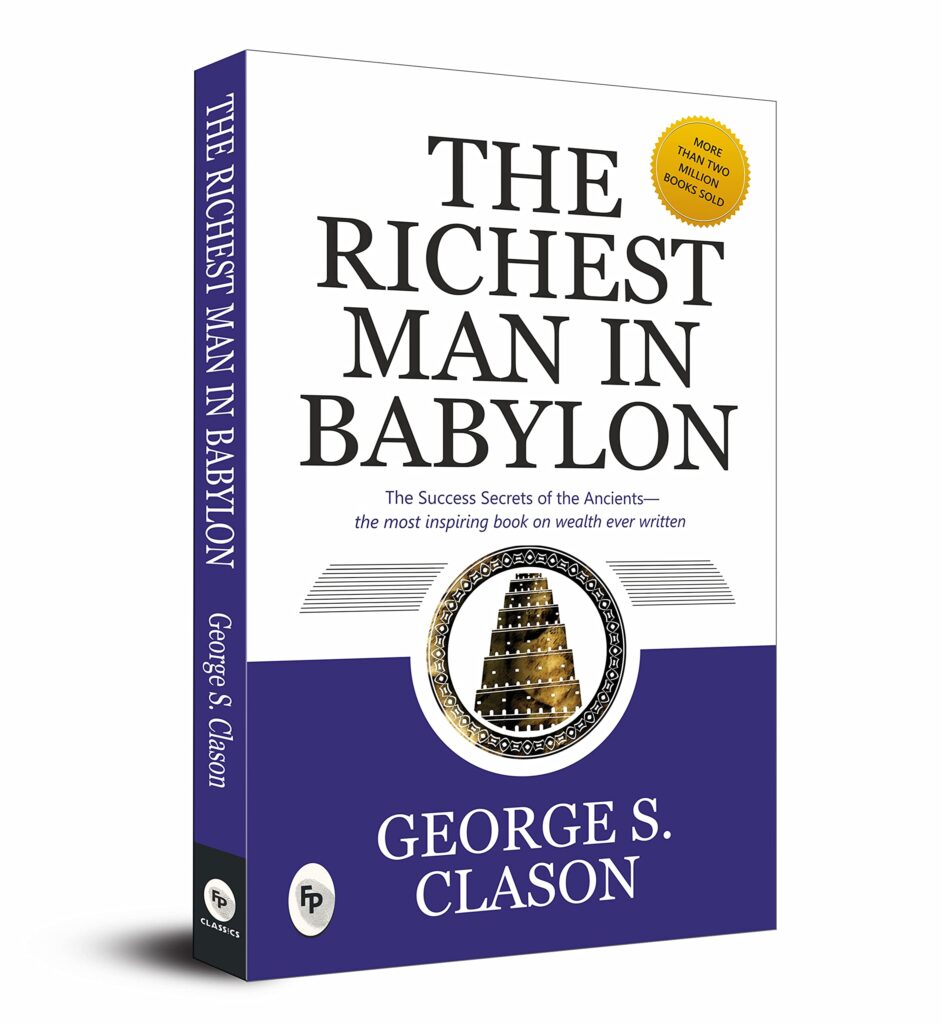 We know that the language of this book is old. But you could also get the new edition. But diction aside, this one is a staple of the best motivational books for students. It deserves that unrivaled preference.
This 1926 book by George S. Clason is a personal finance classic that dispenses financial advice through a collection of parables set 4,000 years ago in Babylon. The book remains in print almost a century after the parables were originally published.
The parables are told by a fictional Babylonian character, Arkad. He gives the "Seven Cures' to a lean purse and the "Five Laws of Gold".
A core part of Arkad's advice is around savings, investing in what you understand, spending, and homeownership. "
Although the language is difficult to read, this book has come to stay as a sound foundation upon which many personal finance strategies have been built. You should add this one to your list of must-read. See Details here
Best Motivational Books for High School
Do hard Things
To Kill a Mockingbird
I Know Why the Caged Bird Sings
The Power of Positive Thinking
The 5 am Club
Best Inspirational Books for College
The Miracle Morning
The Power of Habits
As a Man Thinketh
Eat that Frog
Unlimited Power
Best Motivational Books for Business
The Lean Startup
The 10x Rule
Smarter Better Faster
Rules for Revolutionaries
Integrity Moments
Best Motivational Books on Audible
Drive
How Successful People Think
The Subtle Art of Not Giving a Fuck
The Magic of Tidying up
The Obstacle is the Way
Best Motivational Books for Sales
The Value string
The Sales Advantage
Secrets of Closing the Sale
The Psychology of Selling
To Sell is Human
To Sum it Up
Never settle for less than you deserve. We strongly believe that the books on our list of best motivational books for students will inspire and provides a valuable guide for anyone who wants to make a difference in any corner of the world. Buy these books. Read and apply the nuggets therein, and 10x your results.
Read Also: How to Study Effectively: 15 Study Skills Every Student needs
FAQs on Best Motivational Books for Students
What is the best inspirational book for teenage girls?
There are very good books for teenage girls out there. A good place to start is: the Diary of Anne Frank and I Am Malala by Yousafzai
What are the best motivational books every student should read?
Other amazing books that will help you are:
The Monk Who Sold His Ferrari
The Magic of Thinking Big
Gifted Hands
Who Moved my Cheese?
What books should I read before I go to college?
Born a Crime
Educated
1984
There There
One Hundred Years of Solitude
What is the best motivational book for weight loss?
The Obesity Code
Always Too Much And Never Enough
Born to Run
It Was Me All Along
The Elephant in the Room
Reference
Recommendations