A chatbot is a software application made to engage in human-like conversations based on user inputs. A San Francisco-based company named OpenAI made its latest creation, the ChatGPT chatbot. It was made available for free public testing on November 30, 2022.
It is a computer program that converses with human users, and it uses a structure that selects words based on lessons learned from scanning billions of pieces of text across the internet. This helps give an immediate response. You can ask it questions like reasons why education is important, inviting for birthday party ideas, getting programming help, how to become a chiropractor, poems, etc.
In the course of reading, you will learn about the story behind the creation of AI Bot ChatGPT, its uses, its impact on education, an essay sample, and much more.
What is OpenAI Bot ChatGPT?
An Artificial Intelligence (AI) research company called OpenAI made an announcement about the invention of ChatGPT, a prototype dialogue-based AI chatbot capable of understanding natural language and responding impressively in well-explained human-like written text.
The dialogue format makes it possible for ChatGPT to answer follow-up questions, admit its mistakes, challenge incorrect premises, and reject inappropriate requests; its relationship with the user is conversational. Actually, it is the most recent version of GPT (Generative Pre-Trained Transformer), a family of text-generating AIs.
Its model is GPT-3.5, which is a language model that uses deep learning to produce human-like text. Whereas the older GPT-3 model only took text prompts; AI ChatGPT is much more engaging. The bot has a good memory in that it can remember earlier comments made during a conversation and relate them to the user. It generates detailed text and can write poems.
Who Made AI Bot ChatGPT?
The ChatGPT AI was developed by Elon Musk's OpenAI Foundation, an independent research organization. He co-founded the startup with other Silicon Valley investors, including technology venture capitalist Sam Altman, in late 2015, and there was a blog post then that said that the research center would advance digitally in a way that would be of benefit to humanity. So it is believed they worked on this post and tried to introduce ChatGPT as a digital tool to help humanity.
How does AI Bot ChatGPT Work?
OpenAI Bot ChatGPT is intended to provide information and answer questions via a conversational interface. It was designed with the goal of being flexible and simple to use. The dialogue style makes it possible for this Chatbot to answer follow-up questions, admit its mistakes, challenge incorrect premises, and reject inappropriate requests.
The CEO of OpenAI, Sam Altman, said the system is an illustration of what's possible, explaining that soon, there will be helpful assistants that will talk to you, answer questions, and give advice. Thereafter as improvements are being made, there will be something that goes off and does tasks for you and even discover new knowledge for you.
Those who used the AI bot ChatGPT recently described the system as a second option and even better than Google because it can provide descriptions, answers, and solutions to complex questions, steps to write code, solve layout problems, and optimize queries.
For real-world applications, it could create content for websites, answer customer inquiries, provide recommendations and invent automated chatbots.
Could ChatGPT Replace Humans?
The ability of AI Bot ChatGPT to generate human-like written text has prompted numerous recommendations that the technology could eventually replace journalists. It has also been said that professions that rely on content production could be outdated, from playwrights and professors to programmers as well as journalists.
Since its release, academics have gotten quick responses to exam queries, which they say can result in full marks if submitted by an undergraduate, and programmers have used the tool to solve coding challenges swiftly.
Nonetheless, at this present level, ChatGPT does not possess the critical-thinking skills or ethical decision-making abilities that are necessary for successful journalism. It operates at the knowledge rate of 2021, so it may not give accurate answers to some searches. It can also present misinformation as fact, thus giving incorrect answers.
According to OpenAI, this issue cannot be fixed now since there is no source of truth in the data they use to build the model, and supervised training can also be misleading because the main answer depends on what the model knows, rather than what the human demonstrator knows.
For the reasons stated above, AI bots such as ChatGPT cannot currently replace humans.
Is OpenAI Bot ChatGPT Free?
Yes, for now at least but according to the CEO of OpenAI Sam Altman, it will be monetized at some point especially after a lot of awareness has been made.
Is OpenAI Better Than Google Search
Asking questions and getting answers from a computer is very nice, and the AI bot ChatGPT provides these services. However, Google also provides suggested answers to questions with links to websites (that it believes will be relevant). Now it seems they are both rivals since they offer almost the same services though this chatbox provides many answers compared to what google will proffer.
Nonetheless, it is always good to verify information from original sources before you depend on it, whether it is from ChatGPT, Google, Wikipedia, or others. But for ChatGPT, vetting it may be difficult since it just gives you some raw text with no links or citations.
What can OpenAI Bot ChatGPT do for Students?
This chatbot artificial intelligence has a lot of benefits for students. Some of them are:
It can help to write a research paper or essay by just providing the model with a thesis statement and some key points, and ChatGPT will bring up ideas based on your input.
It can be used to generate practice questions for exams so you can test your knowledge and prepare for upcoming evaluations.
They can also use it to get feedback on written assignments and it can give recommendations on where to improve hence improving your writing skills.
It can be used to get assignment questions (based on the input)
For the programming students, oh yes you can ask and get answers to your programming questions.
Will OpenAI Bot ChatGPT Impact Education positively or negatively?
In recent times, students have had access to anything they can memorize, they can ask an AI for increasingly accurate results. The AI chatbot can solve many issues for these students, but what about critical thinking?
With the invention of the AI bot ChatGPT, the education sector needs to realize that students will now need critical thinking skills to test their abilities, not rote memorization skills. Therefore, teachers and administrators to focus on critical thinking other than the normal tests or rote memorization that can be manipulated – this will lead to the development of lifelong learners.
Most of the influential people in any discipline are critical thinkers with a growth mindset who engage in lifelong learning and personal development. Rote memorization has never been the best option in any good industry.
AI bot ChatGPT can be beneficial to education if students are taught the ethical use of this technology. Rather than generating an entire answer and thinking about the best-fit solutions to difficult problems, students should learn how to generate feedback or content for their essays or articles. They can understand how to interact with, evaluate for accuracy, and utilize the vast and open world that technology is bringing forward.
How to Use OpenAI Bot ChatGPT to Write an Essay
To use this chatbot to write an essay, you need to go through these steps:
Sign up for ChatGPT to begin writing your essay.
After that, you must confirm your email address and enter your phone number.
Return to ChatGPT
Login and request that the bot write an essay for you.
For example, "Write me a college essay about the religions in India"
It will bring up an entire essay on your chosen topic in a few seconds, and you can get more information when the bot responds with phrases like "more, please" or "make it longer." You can also ask specific questions about your essay topic, and then the text should be copied into another document to form your essay.
The model is currently free to use because it is in its beta stage and OpenAI is using this period to get feedback so they can improve more on their weaknesses.
Example of ChatGPT Essay
Topic: Write a 100-word essay about why I want to become a Nurse
Answer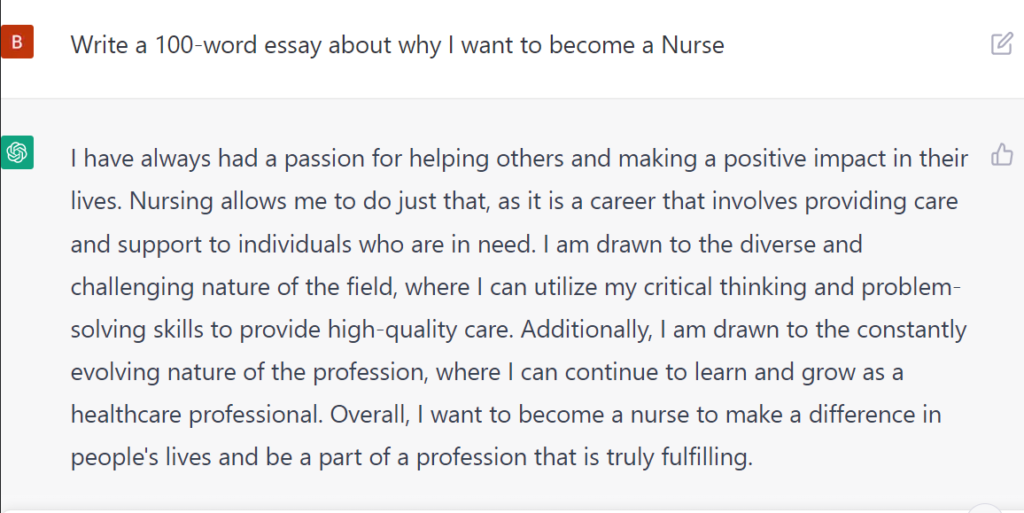 OpenAI chatbot allows you to select the number of words you would like for your essay. You can also see our article on How To Write A Research Paper Abstract
OpenAI Bot ChatGPT Limitations
Despite the fact that this chatbox has a lot of abilities embedded in it, there are still some limitations. The model can give incorrect answers to most problems like algebraic problems and because it has been applauded to be accurate, many people can be misled into believing they got the right answers.
The owners – OpenAI understands these shortcomings and has noted them down on its announcement blog: "ChatGPT sometimes writes plausible-sounding but incorrect or nonsensical answers. Fixing this issue is challenging, as:
during RL training, there's currently no source of truth
training the model to be more cautious causes it to decline questions that it can answer correctly
supervised training misleads the model because the ideal answer depends on what the model knows, rather than what the human demonstrator knows."
Nevertheless, AI ChatGPT is still more interactive and more engaging.
Conclusion
ChatGPT is a powerful AI bot that competes with some upcoming ones from Google and many other tech companies. They are used to create human-like text, but with its advancement, the use of essay-based evaluation will not be much effective since it can now be manipulated.
Hence, it is mandatory for educators to introduce new forms of assessment that are not as susceptible to manipulation by an AI chatbot. These forms include the use of critical thinking skills, complex problem-solving skills, and others.
FAQs on how OpenAI Bot ChatGPT will Impact Education
Can I use ChatGPT to write school essays?
Yes, you can. It is specifically designed to help students write essays quickly and easily based on your input.
Is ChatGPT a free AI tool?
For now, it is free because it was made available to the public on November 30 through OpenAI's website, and they are looking out for feedback to help improve on their flaws.
What company created ChatGPT?
On November 30, 2022, OpenAI — an AI research lab co-founded by Elon Musk and then Y Combinator president Sam Altman — introduced ChatGPT, an AI chatbot.
Is ChatGPT software?
ChatGPT is a software application that's used to engage in human conversation in a natural way. 
Will ChatGPT have a positive impact on education?
Yes, it will if only the right rules and ethics are being followed.
Reference
Recommendations